Grilled Peanut Butter & Honey Sandwich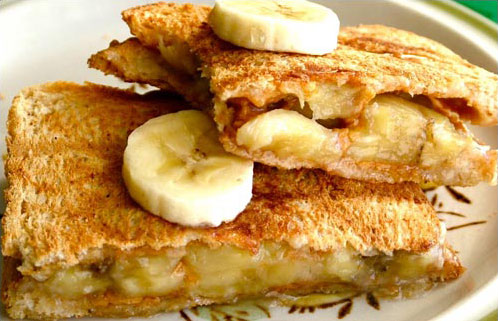 (1 serving)
2 slices of bread (I use 100% whole wheat)
1 Tablespoon of peanut butter (I use creamy Smart Balance brand)
1/2 Tablespoon of honey
1 large banana
First toast the bread just a little bit – if this step is overlooked, then the bread might become too mushy (yes mushy is a very technical term).
Spread 1/2 Tablespoon of peanut butter on each slice of bread.
Cut the banana into slices – however big you so choose (I cut mine about a quarter of an inch thick).
This would be a good time to turn on your grill. You could also griddle or fry this sandwich, but grilling is the healthiest route (you will find I usually take the healthy route).
While your heat source is doing it's thing- drizzle honey over the two slices of peanut butter bread.
Lastly – Cover both pieces of peanut butter bread completely with the banana slices. If you have any left over banana slices just use them to top off your sandwich, or snack on them while the sandwich is grilling